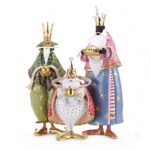 Patience Brewster Nativity World Magi Figures
Patience Brewster Nativity World Magi Figures
$138.00
Celebrate the spirit of Christmas with the Nativity collection from Patience Brewster by MacKenzie-Childs. An ever-expanding group of handmade and hand-painted figures tells the story of the first Christmas in a colorful and captivating way. The Patience Brewster Nativity World Edition Magi Figures might have hailed from Egypt, Persia, and Ethiopia. Dressed in ornate robes with gold accents, Balthazar, Melchior, and Casper come bearing gifts. Their respective rides are Frank the Camel, Golda the Horse, and Myrtle the Elephant. Set of 3.
4 disponibles (puede reservarse)
Only 4 items left in stock!
Dimensions
10″, 9″, 7″ tall
Materials
Stone and resin. Handmade and painted in the Philippines.
Care and Use