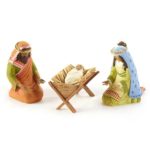 Patience Brewster Nativity World Holy Family Figures
Patience Brewster Nativity World Holy Family Figures
$118.00
Celebrate the spirit of Christmas with the Nativity collection from Patience Brewster by MacKenzie-Childs. An ever-expanding group of handmade and hand-painted figures tells the story of the first Christmas in a colorful and captivating way. The Patience Brewster Nativity World Edition Holy Family Figures set includes Mary, Joseph, and Baby Jesus in his manger. The new parents are each able to hold the baby in their outstretched arms. You can provide them with a shelter, palm trees, and watchful animals. Set of 4.
5 disponibles (puede reservarse)
Only 5 items left in stock!
Dimensions
5.25″, 5″, 2.5″ tall
Materials
Stone and resin. Handmade and painted in the Philippines.
Care and Use