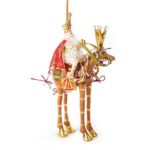 Patience Brewster Nativity Melchior on Horse Ornament
Patience Brewster Nativity Melchior on Horse Ornament
$48.00
Celebrate the spirit of Christmas with the Nativity collection from Patience Brewster by MacKenzie-Childs. An ever-expanding group of handmade and hand-painted figures tells the story of the first Christmas in a colorful and captivating way. The Patience Brewster Nativity Melchior on Horse Ornament features the king wearing a tall jeweled crown and red and white robes. He bears the gift of gold, a symbol for purity. His horse, Golda, also wearing a jeweled crown, has a braided mane and tail and shining gold hooves.  
5 disponibles (puede reservarse)
Only 5 items left in stock!
Dimensions
7.5″ tall
Materials
Stone and resin. Handmade and painted in the Philippines.
Care and Use