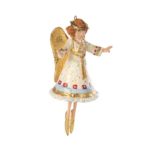 Patience Brewster Nativity Heavenly Angel Mini Ornament
Patience Brewster Nativity Heavenly Angel Mini Ornament
$28.00
Celebrate the spirit of Christmas with the Nativity collection from Patience Brewster by MacKenzie-Childs. An ever-expanding group of handmade and hand-painted figures tells the story of the first Christmas in a colorful and captivating way. The Patience Brewster Nativity Heavenly Angel Mini Ornament has a peaceful gaze and floats on tiny gold-leaf wings to bring good tidings this season.
1 disponibles (puede reservarse)
Only 1 items left in stock!
Dimensions
3.5″ tall
Materials
Stone and resin. Handmade and painted in the Philippines.
Care and Use